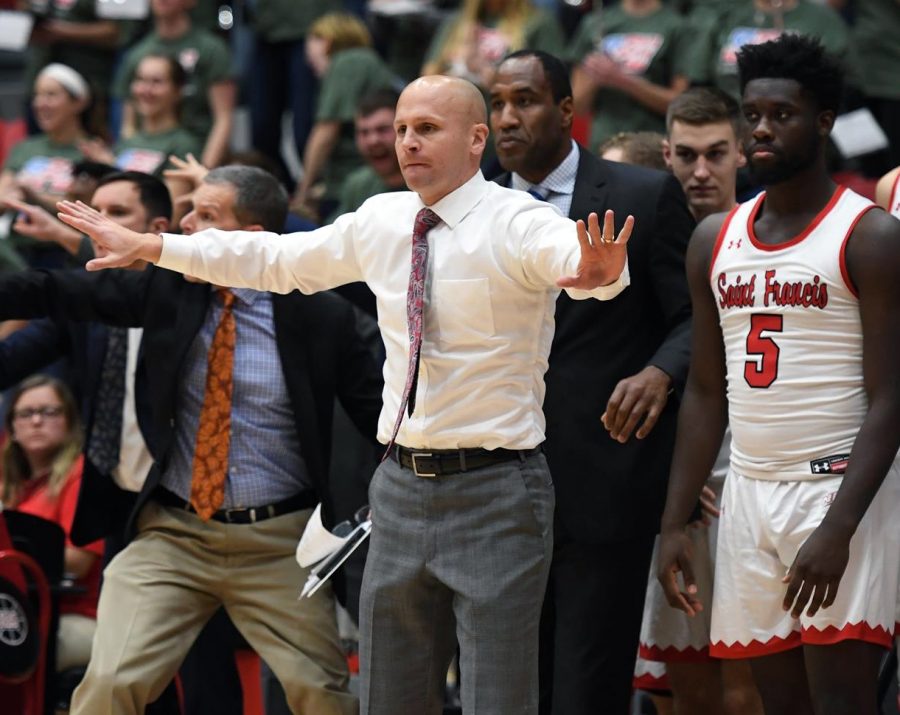 Service is something that all SFU students are asked to demonstrate in their daily lives. 
Head men's basketball coach Rob Krimmel has consistently served as an example for his players and others around campus on how to serve others. In April, he will be recognized for this service. 
Krimmel has been chosen to receive the National Association of Basketball Coaches' (NBAC) Guardian-of-the-Game Service Award. 
Krimmel has had a hand in multiple service projects with his team, both on campus and in the surrounding community.
"It's a humbling honor, and the work of the team and the staff is why I'm receiving this award," said Krimmel. "It's not something I did alone." 
Krimmel has been heavily involved in the Stay-in-to-Win program, where college coaches work with middle and high school coaches to emphasize to students the importance of staying in school and building successful strategies for later in life. 
Krimmel also works with Team Impact, a program in which college teams work with children with chronic illnesses to help form life-changing outcomes. He and his team have also worked with the Special Olympics. 
Senior standout men's basketball player Keith Braxton believes his coach is a deserving recipient of the NABC's award. 
"The Guardian-of-the-Game award is the perfect award to reflect Coach Krimmel," Braxton said. "He wants his players to be the best not only on the court, but off the court.
"In everything he does, Coach Krimmel gives it 110 percent. He is a great role model and is always looking to give a helping hand."
Krimmel said service is not something his team takes lightly.
"It [service] will always be a part of our program, part of our institution," he said.
Krimmel will receive the award at the NABC Guardians-of-the-Game Awards Show on Sunday, April 5, in Atlanta at the NCAA Men's Basketball Final Four.