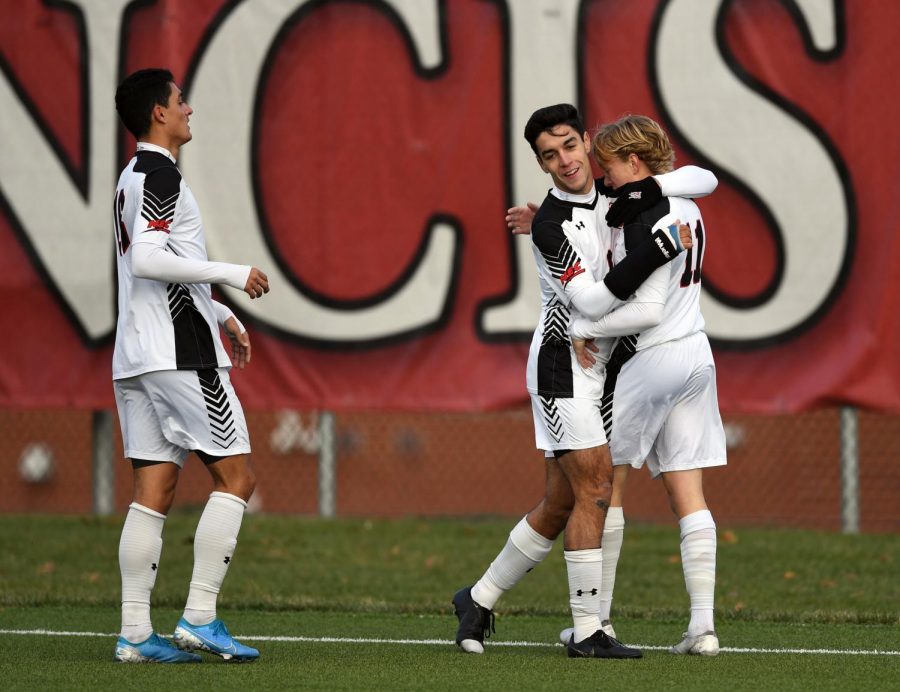 The men's soccer team will host Fairleigh Dickinson on Friday at 1:30 p.m. in the semifinals of the 2019 Northeast Conference Tournament.  
SFU (10-5, 7-2 NEC) earned the opportunity to host the tournament after finishing in second place in the league during the regular season. Merrimack finished first in the NEC with a 9-0 conference mark, but the Warriors are ineligible for the postseason tournament during their transition period to Division I.
Number 2 seed Long Island will play fourth-seeded Bryant on Friday in the other semifinal game at 10:30 a.m. The semifinal winners will face-off on Sunday at 1 p.m. in the NEC Championship game. 
SFU entered its final regular-season game against Robert Morris last week needing a win to host the tournament. Following a goal in the 29th minute by Lucas Rosa, the team never looked back in a 3-0 victory over the Colonials.
Rosa finished the regular-season with 11 goals and two assists. The junior midfielder leads the NEC in goals scored and game-winning goals (6).
The Flash are currently ranked ninth in the latest NCAA Northeast Region poll.
"One goal we had for the season was to host the tournament," said junior midfielder Kevin Smolyn. "The second was to win the tournament, so we're excited to host. 
"Hopefully we can win for the first time in school history."
This will be the second time in school history that SFU will host the NEC Tournament – the first time was in 2014. The team won seven of its final eight games on the season and are on a six-game winning streak in Loretto.
"The whole team came together at the right time toward the end of the season," said Rosa. "It makes a huge difference having the tournament in our backyard."