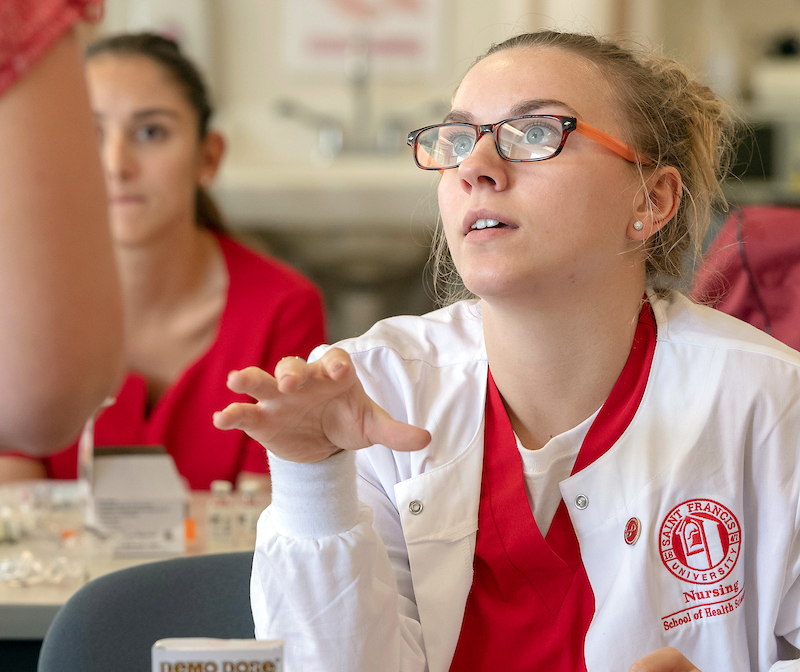 SFU's Nursing Program is tied for number one in the nation for the fifth year in a row after achieving a 100-percent pass rate on the National Council Licensure Examination (NCLEX-RN). 
RNcareers.org ranked over 900 college and university nursing programs and Saint Francis tied with 12 other schools for the number-one position this year, in large part because of its 100-percent pass rate.
Criteria for RNcareers.org's ranking includes the NCLEX-RN first-time pass rate. Staff at RNcareers also reach out to each state's Board of Nursing to better grasp the quality of each program on its list. 
Passing the NCLEX-RN exam is required to become a licensed nurse after graduation. 
"It's extremely rewarding to see all of the time, energy and effort put in by the students and professors paying off," said Lindsay Kent, a senior nursing major.
"As future nurses, we hope all of the knowledge we are learning at Saint Francis carries on to change our lives and the lives of our patients in a positive way."
In addition to the RNcareers.org's national ranking, the site RegisteredNursing.org ranked SFU's program number one in Pennsylvania. 
"I want to congratulate all faculty, staff, administration and graduates," said Rita Trofino in a press release. Trofino is chair of the Nursing Department and Associate Dean of the School of Health Sciences and Education. 
"As I have mentioned several times, this is a team effort, with faculty and staff supporting the development of a strong program."