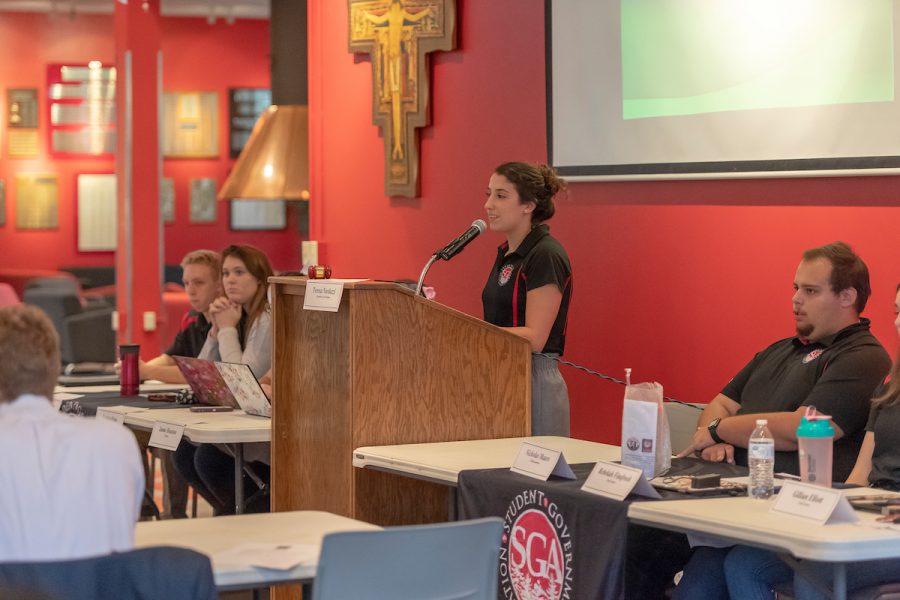 SGA conducted its biannual Town Hall on April 9 in JFK Auditorium.
The event affords students the opportunity to share their questions and concerns and hear from the administration on various issues.
SGA President Teresa Narduzzi introduced Father Malachi, who delivered an opening prayer and address. Fr. Malachi shared information on the JFK renovation project.
Following the president's presentation, Narduzzi shared information on how SGA has served students in various ways in 2018-19. She told those gathered that students now have a greater voice, thanks to the addition of more senators to the governing structure.
Narduzzi also told attendees that SGA helped implement several new safety measures, including speed bumps and crosswalk signs around campus.
"Town Hall is an amazing opportunity for students to see the collaboration that exists between the Student Government Association and administration," said Narduzzi.
"It is also a perfect way for students to express their concerns and frustrations in a respectful and professional manner."
Members of the administration panel at the Town Hall included Father Malachi, Jeff Savino, Vice President for Finance and Administration; Dr. Karan Powell, Interim Vice President for Academic Affairs; Reggie Esmi, General Manager for Dining Services; and Don Miles, Director of Residence Life.
The panel members were asked questions from SGA's Executive Board regarding concerns from their fellow students.
During the open microphone portion of the Town Hall, the panel answered additional questions from the student body at-large.
The most discussed topic during this portion of the program was the planned increases in meal plan costs in the fall semester.
Beginning in the fall, the Silver, Gold and Platinum meal plans will all cost the same – $3,100. There will be a lower-priced Bronze plan for juniors and seniors.