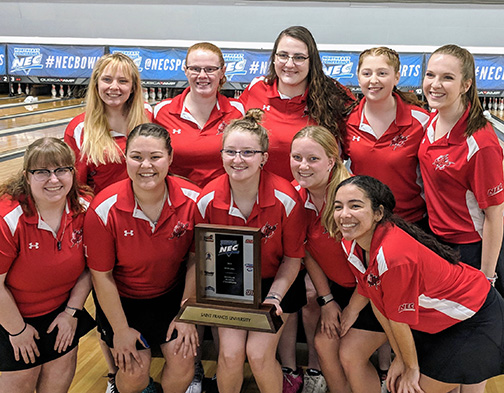 The bowling team closed the 2018-19 season at the Northeast Conference Championship in late March.
Led by first-year head coach Andrew Gonner, the Red Flash enjoyed a strong regular season and entered the NEC Championship as the top seed before falling to Fairleigh Dickinson and Mount Saint Mary's.
Against FDU, freshman Liz Brock (219.0 average) and senior Haley Carroll (174.0 average) both turned in strong performances.
Against Mount Saint Mary's, Carroll led SFU with a frame average of 175.0 and 350 total pin-falls. Senior Amanda Balas had a frame average of 164.5 and knocked down a total of 329 pins.
The team, which captured the NEC's tournament title last year and then posted a win in the NCAA Tournament, closed this season with a final record of 87-40 and an NEC mark of 13-4.
"The fact that we were able to win the (NEC) regular season was amazing," said Balas. "I see great things for the future of this team.
"It's just going to take hard work and dedication."