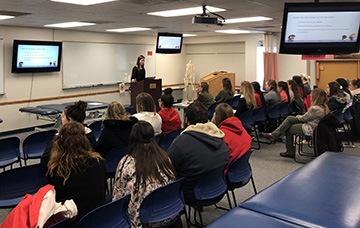 Physical therapy graduate student Rosemary Smith discussed her experiences working with children in a special education school to a gathering of health science students and teachers on April 5.
Joining Smith for her presentation was Gabriel, a student from the school, as well as his mother.
Gabriel and his mother explained how helpful the special education system has been for them and how physical therapy has helped Gabriel, who has cerebral palsy.
He was affected by the disease when he suffered a brain bleed as a young child. Until recently, Gabriel was unable to walk.
"We were looking for an education system to collaborate with a therapeutic system," said Gabriel's mother. "Seeing the work being done by people like Rosemary makes me very happy to be a part of the special education system."
Much of Gabriel's therapy was completed on campus.
"Gabriel is a testimony to the amazing therapy that is done here at Saint Francis," said his mother.
Smith's presentation provided insight into how educators and health professionals can work together to better the lives of students. She highlighted the importance of collaboration between teachers and health-care professionals.
Smith emphasized three points regarding this collaborative approach: physical, psychological and social development.
She said that in order to develop in each of these areas, children must interact with each other, participate in class, finish their homework, and pursue physical activity.