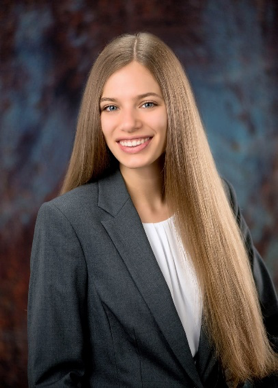 Junior accounting major Rebecca Kasun became the first Saint Francis student to receive the Sigma Beta Delta Fellowship Award. It is given to students studying a field of business who are well-rounded individuals, inside and outside of the classroom.
Kasun is as one of around 30 students in the nation to receive a 2018 scholarship from Sigma Beta Delta, the national business honor society.
"It feels pretty special to me," said Kasun. "It's a good way to represent the school and recognize them for going above and beyond, not just educating me, but forming me into a business woman."
The fellowship includes a $1,000 scholarship, a certificate and official letter. Kasun is planning to use the money toward her London spring break trip. While there, she will take a business class.
In order to qualify for the award, students must maintain a 3.5 GPA and be in the top 20 percent in their major. A letter of recommendation is also needed to apply.
"It's difficult to get because it's more than just grades," said Jim Logue, an accounting professor at the University.
Logue is Kasun's academic advisor and wrote her a letter of recommendation for the fellowship.
In his letter to Sigma Beta Delta, Logue noted that Kasun is on track to complete her undergraduate degree in three years. She then plans to enroll in Saint Francis' MBA program.
In addition to academic credentials, Sigma Beta Delta also looks at candidates' wisdom, honor and pursuit of meaningful aspirations. The organization also looks for candidates who are caring and spend time giving back to their communities.
Logue hopes that Kasun's story will serve as an example to other students that "a little initiative can pay off in the long run."