Dr. Roxana Cazan recalls life after moving to US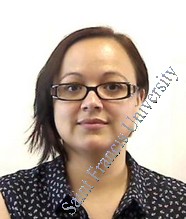 Hang on for a minute...we're trying to find some more stories you might like.
Dr.  Roxana Cazan came to the United States after graduating from undergraduate school in Romania, her home country. She began her life in the U.S. by attending the University of Louisville for her MA.
Until she was nine years old, Cazan lived in a communist state, and her family was living on rationed food. However, once communism fell, things really changed.
When talking about how much food is on the shelves in stores, Cazan said, "It was a big shock after the revolution. Even today I am still fascinated with that."
She was interested in coming to the U.S. because "you could get a degree in creative writing."
"I always had it in my head that I wanted to write poetry," Cazan said.
While at Louisville, Cazan wrote a book of poems instead of a traditional thesis.  After graduating, she attended Indiana University Bloomington, where she earned her Ph.D. She started her job at SFU and her life in Pennsylvania in 2014, which she still enjoys.
It did not take Cazan long to make an impact on her new community. She and a few friends started a group for writers at an Altoona coffee shop, the Clay Cup.  She says it is open to anyone who is interested in creative writing.
She recently discovered that she has some hidden relatives in Minnesota.  Her immediate family still lives in Romania. Cazan is "thankful for Skype and messenger" so that she can keep in contact with them.
"I love it here. I love it more and more every year," Cazan said.
She wants to settle down after moving around so often and hopes this is the place.