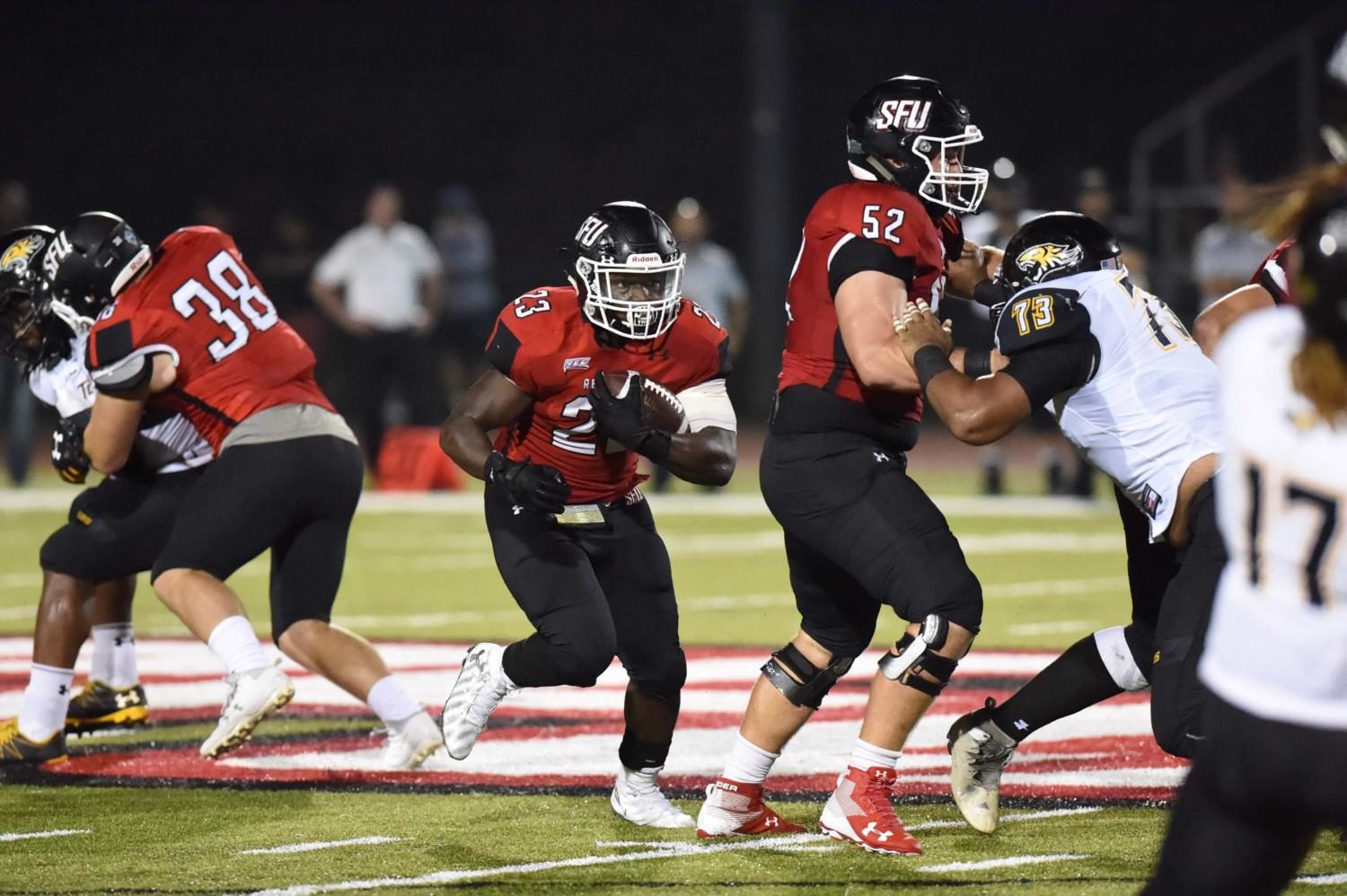 JD Cavritch
Loretto was host to an instant classic on Saturday, Sept. 16, with a football game that was decided on a field goal as time expired.
That, however, may not be what most people remember from this game. Towson ended a 10-game home win streak for Saint Francis (2-1) at DeGol Field after a recent rule change helped set the Tigers up for a game-winning 42-yard field goal attempt by Aidan O'Neill.
His kick was good and the Tigers toppled the Red Flash, 16-14.
"That's just what happens when you play against a big school with that many scholarships," Red Flash head coach Chris Villarrial said.
In a game that was decided by defense, the Red Flash forced three fumbles in the first half alone. SFU, which ranks fourth in scoring defense in the FCS, shut out the Tigers in the first half.
The lone score of the first half came on a fade pass to the corner of the end zone from Flash quarterback Bear Fenimore to his favorite target, Kamron Lewis. The All-American candidate's touchdown snag came in double-coverage, but despite taking contact immediately, he held on to record his seventh straight game with at least one touchdown.
The Tigers dominated the clock in the second half, piling up nine minutes of possession time in the third quarter alone. Towson only managed to come away with a field goal in the quarter as the Red Flash continued to play strong defense.
"The defense kept giving us great position," junior quarterback Bear Fenimore said. "Things just didn't go our way."
Towson clawed ahead after a six-yard scoring scamper by freshman Adrian Platt, putting the Tigers up 10-7 in the fourth.
After forcing another three-and-out, Towson notched another field goal to extend their lead to six (13-7) in the closing minutes.
"A few missed tackles kept leading to some breakaway plays for them," SFU senior safety Delondo Boyd said. "We gave them too many opportunities."
The Red Flash bounced back after the Towson field goal with a 52-yard pass from Fenimore to sophomore Cyrus Holder to start the next drive. Moments later, Fenimore threw a jump ball to Lewis and the talented receiver came up big yet again. Coming down in a sea of white jerseys, the Red Flash were now up by one (14-13) with just over two minutes remaining.
Facing a long second down, Tigers freshman quarterback Ryan Stover threw a ball deep over the middle that was broken up on a hit by sophomore Nick Rinella. The Tigers were set to face an improbable third-and-18, but the referees met in the middle of the field before announcing Rinella's hit was deemed a target of the receiver (intentional contact aimed for the head area).
Rinella was ejected and the Tigers were on the other side of the 50-yard line. Towson then put together a couple of short runs to set up the game-winning field goal from 42 yards out as time expired.
"Our guy did nothing wrong," Villarrial said. "One guy was going low, and their guy went low last minute. I understand it's for the safety of the players, but it was an unfortunate call."
The loss snapped a 10-game home-win streak dating back to 2014, but the Red Flash appear ready to move on.
"We only have 48 hours to lick our wounds and move on to next week," said Villarrial.
The Red Flash will look to regroup and refocus when they visit Liberty on Sept. 30 in a non-conference game.
"We just have to get back to the fundamentals this week," Fenimore said. "Our big focus is still on the conference. We have to move forward."