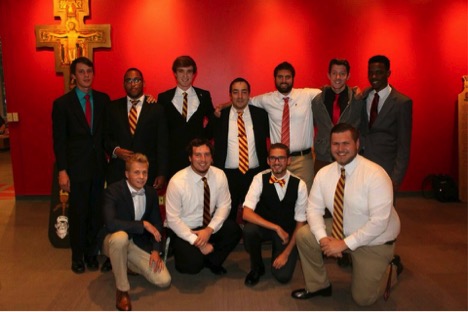 The beginning of a new school year means the start of Greek Life recruitment season yet again. Wednesday night, JFK Student Center held its "Greek Meet and Greet" event and gave students across campus the opportunity to learn more about Greek Life.
"The importance of the very first night of recruitment is to help us figure out what we are working with," Psi Upsilon's Recruitment Coordinator Ryan Cox said.
"A lot of different guys come from a lot of different backgrounds, so we want to make sure that we are able to cater to everyone's needs. That way we know what we are working with, they find a good fit and everyone wins in the end."
Vice President of Programming for Delta Phi Epsilon, Annamarie Green, understands the importance of the "Greek Meet and Greet" event for upcoming semesters as well.
"The first night allows you to leave an impression on freshmen and give them an idea of what to expect come the spring semester," said Green.
Greek Life around the country typically stirs up controversy and "bad headlines," but Saint Francis University's Greek Life is trying to change the image of Greek Life nationally.
"One of things we pride at Saint Francis is that we are not "Old School", we are not "Animal House", we are not "American Pie"…we are Saint Francis Greek Life," Cox added.
"That means we promote: service, academics and good social spiritual growth. I don't think there will be any dips in the system. I think we will see a rise whenever students see that we are not the ideas that are portrayed about Greek Life."
Delta Phi Epsilon is also onboard with trying to improve the image and mentality of Greek Life.
"I know for our sorority we are doing more events outside of socials and mixers…We are starting a mentorship program with The Goodwill and other programs in Cambria County, so we can get the good name of our sorority out there," Green said.
These two are just a couple of the many that are striving hard to spread the Franciscan ways throughout Greek Life and beyond.
Greek Life recruitment season runs through all of September, so if you missed the event last night there will be plenty of RUSH opportunities that give students the opportunity to interact with each sorority and fraternity.