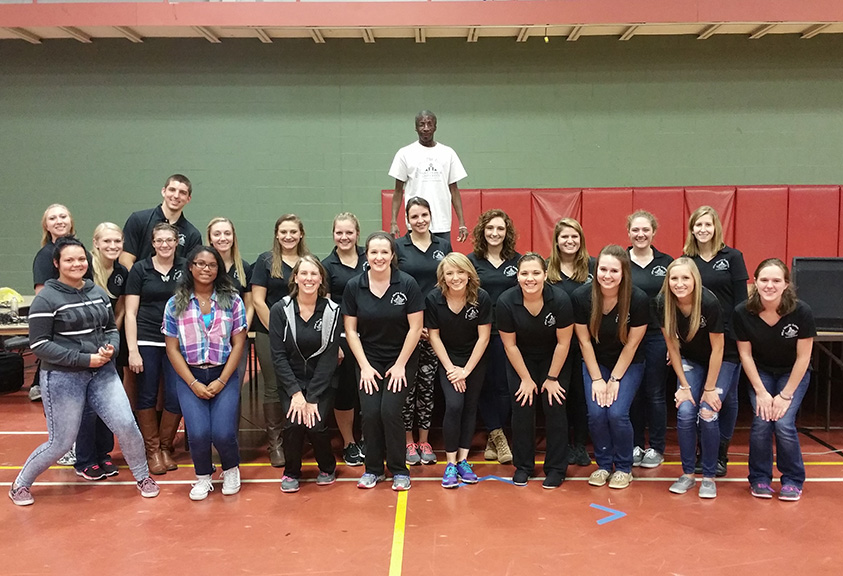 Sign Jam, an annual event that allows students to learn more about American Sign Language (ASL), was held Oct. 15 in the Stokes Center's auxiliary gym.
Rodney Watson, the co-creator of Sign Jam, taught students who attended the event how to sign and dance to Michael Jackson's "Xscape."   He also performed to Jackson's "Man in the Mirror."
Watson said Sign Jam has "opened the door" for the deaf and hearing communities to come together.
Arielle Crum participated in SFU's first Sign Jam in the fall of 2011 and was back on campus for this year's event.
"It is always great to come back as an alumna and see the (ASL) program growing and Sign Jam growing," Crum said.
Gale DeArmin, an assistant professor of ASL and one of the coordinators of the event, said that at each Sign Jam, she applies what Karen Walkney-Mrdjenovich taught her. Walkney-Mrdjenovich taught ASL at Saint Francis, as well as Penn State and Pitt. She passed away in 2010. DeArmin described her as the "pioneer of the ASL program at SFU."
"Sign Jam is not just about performing," DeArmin said. "It's about being able to use that sign and skill after performing."
In the spring, ASL faculty and students will conduct a deaf hospital simulation and an ASL Community Week. Like Sign Jam, these events will give students the opportunity to interact with and learn more about the Hard-of-Hearing and Deaf community.