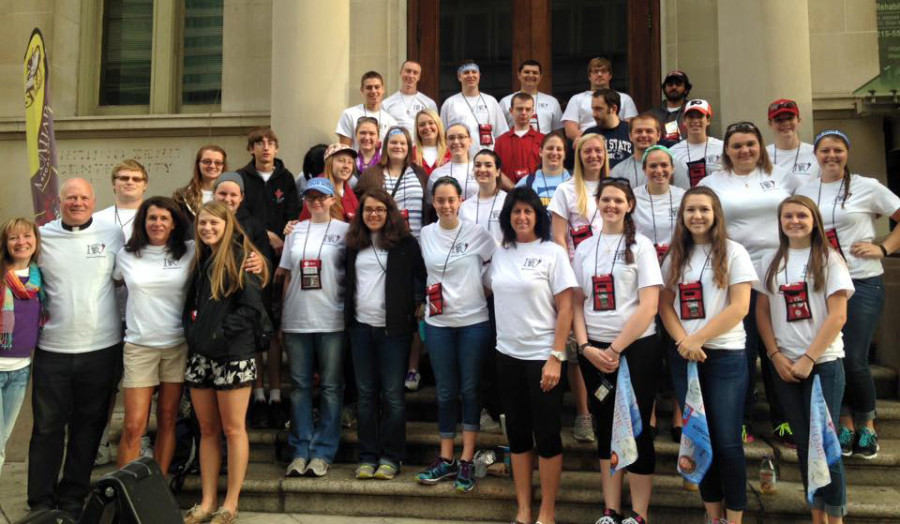 Forty SFU students, along with students from St. Vincent College and Penn State University, traveled to Philadelphia to see Pope Francis, Sept. 25-27.
The pontiff visited Washington, D.C., New York and Philadelphia on his first trip to the United States.
Friday was "Tourist Day" for the students in Philadelphia. The group visited Independence Hall and the Liberty Bell, as well as a grotto dedicated to Our Lady of Undoer of Knots, which is located beside the Cathedral Basilica of Saints Peter and Paul. Students wrote prayer intentions and tied them to the fencing surrounding the grotto. The pope later made an unexpected visit to the grotto on Sunday.
On Saturday, the pope celebrated mass with U.S. bishops in the Cathedral Basilica of Saints Peter and Paul. The group then participated in a mass at St. John the Evangelist Church with Bishop Mark Bartchak, who serves as bishop of the Altoona-Johnstown Diocese.
The pope made an appearance at the "Festival of Families" on Saturday.
"He talked about the importance of the family in really practical ways," said SFU student Nick Astle. "He mentioned the little things done out of affection – those little signs of love. That really resonated with me."
On Sunday, the travel party "camped out" along Ben Franklin Parkway and waited for the mass the Pope would lead.
"I felt almost like an actual pilgrim," Astle said.
Just before the mass, Pope Francis paraded around the crowd in his Jeep Wrangler "pope-mobile."
"I was surprised how slowly he went," noted SFU student Angela Taylor.
Following the mass, the group packed up and returned to Loretto, arriving on campus around 3:30 a.m. Monday.
The students expected security to be tight, but were surprised to find it rather unobtrusive. The Pennsylvania State Police, the Transportation Security Agency, the Secret Service, the U.S. Border Patrol and the Swiss Guard were all tasked with securing the perimeter of locations the pope visited.
"I felt very safe," Taylor said. "It would have dulled the energy of the whole weekend if you had to go through security and they screamed at you."
For many who made the trip, the experience was transformative.
"It was probably the best experience of my life," Astle said.